Photoshop CS4 for the Underwater Photographer

Digital Download
$49.00
For all you CS3, CS5 and CS6 users out there, these tutorials are for you too!
Featuring over 10 hours of easy to follow video instruction, "Photoshop CS4 for the Underwater Photographer" guides viewers through the essential and advanced Photoshop techniques used to produce stunning underwater imagery. You'll learn the "correct way of doing things" and master the secrets savvy Photoshop users employ to produce professional results. Packed with informative step by step lessons taught using "real life examples," this DVD covers everything from the Camera Raw interface to advanced topics like underwater HDR photography.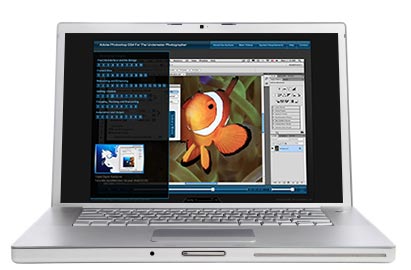 With an easy to navigate flash-based menu to choose from, shooters can select from almost 70 NEW different lessons to perfect their editing skills whenever the time is right. You'll learn about the flexibility of Smart Objects, the importance of adjustment layers, how to effectively make water blue, and ways to remove backscatter. You'll master creative sharpening techniques, learn how to use curves and understand how to employ advanced retouching and color correction methods you can use to improve every shot out of the camera. In addition, you'll discover what's new in CS4 along the way, and how it can help you improve your images. So what are you waiting for? Leave the heavy manuals at home and join Doug and Lorenza Sloss as they guide you through this learning adventure in what can be considered the ultimate reference library for the underwater shooter.

ADVANCED OR BEGINNER? YOU'RE COVERED!
Our training videos are clearly explained and designed in a way that let you follow along at your own pace, no matter your skill level. Use it to brush up your editing skills, master the new "goodies" in CS4 and refresh your brain if it's been a while since you've gotten down and dirty with some digital editing.
| | |
| --- | --- |
| Learn the advanced Auto Blend capabilities CS4 offers to generate stunning composites, like this one! | |
HOT NEW TREND!
UNDERWATER HDR
Tap into fresh new technology to improve your photos and create high dynamic images. Learn how to tonemap your raw files and develop unique artistic photos rich in detail with more vibrant color than ever before.

Before

After
Before

After

RETOUCH AND ENHANCE YOUR PHOTOS


Learn the most effective ways to clean up an image, remove backscatter and optimize your shots using adjustment layers and a non-destructive workflow. Fix most problems in your photos and give them that extra bit of "love" that makes them stand out from the rest.
MAKE WATER BLUE AND TRUE

… and make your colors pop. Before

Refining selections

After
Edge Mask Sharpening

CAMERA RAW


Learn the ins and outs of the Raw Interface, to produce images with superior tonal range and maximum amount of detail. Get familiar with the new Adjustment Brush and its ability to produce easy localized corrections.


WORK SMARTER AND FASTER


Learn how to better organize with Collections and Automate faster with the Output Panel, actions and droplets.
Adjustment layers and Smart Objects let you work smarter and faster, like never before.

Depth of Field

LEARN AT YOUR OWN PACE


Dig in with lessons that cover the classic approaches and more advanced enhancements. With a video library of almost 70 videos you can access at any time – it's like having a week long seminar available whenever you feel like learning.


PERFECT FOR ON THE GO


Learn valuable tips and have fun on vacation and leave all the heavy and complicated manuals at home. Small enough to take on every trip

Art Prints


PROFESSIONALLY PRESENT YOUR WORK
Learn how to creatively show off your work to friends and clients alike with Web Galleries, PDF presentations, Contact Sheets, Art prints and more!

SYSTEM REQUIREMENTS:
• Mac or PC
• 1024 x 768 resolution
(it works for CS5 and CS6 users too)
• Flash Player version 9.X or higher
• This tutorial series does not include Adobe Photoshop CS4 (or higher) program itself

Digital Download
$49.00
Adobe and Photoshop are either registered trademarks of Adobe System Incorporated in the united States and/or other countries. This product is neither endorsed nor sponsored by Adobe System Incorporated, publisher of the Adobe Photoshop family of products including Photoshop CS3, Photoshop Cs3 Extended, Photoshop CS4, and Photoshop CS4 Extended
---
| | |
| --- | --- |
| | CHECK OUT ALL THE LATEST DEALS AT B&H |